Honey Bee Entertainment Chosen 2016 "Best in Gwinnett"
Music has been proven to: improve memory & discipline, enhance coordination, better mathematical ability, refine time management skills, relieve stress, foster self-expression, and create happiness for self & others.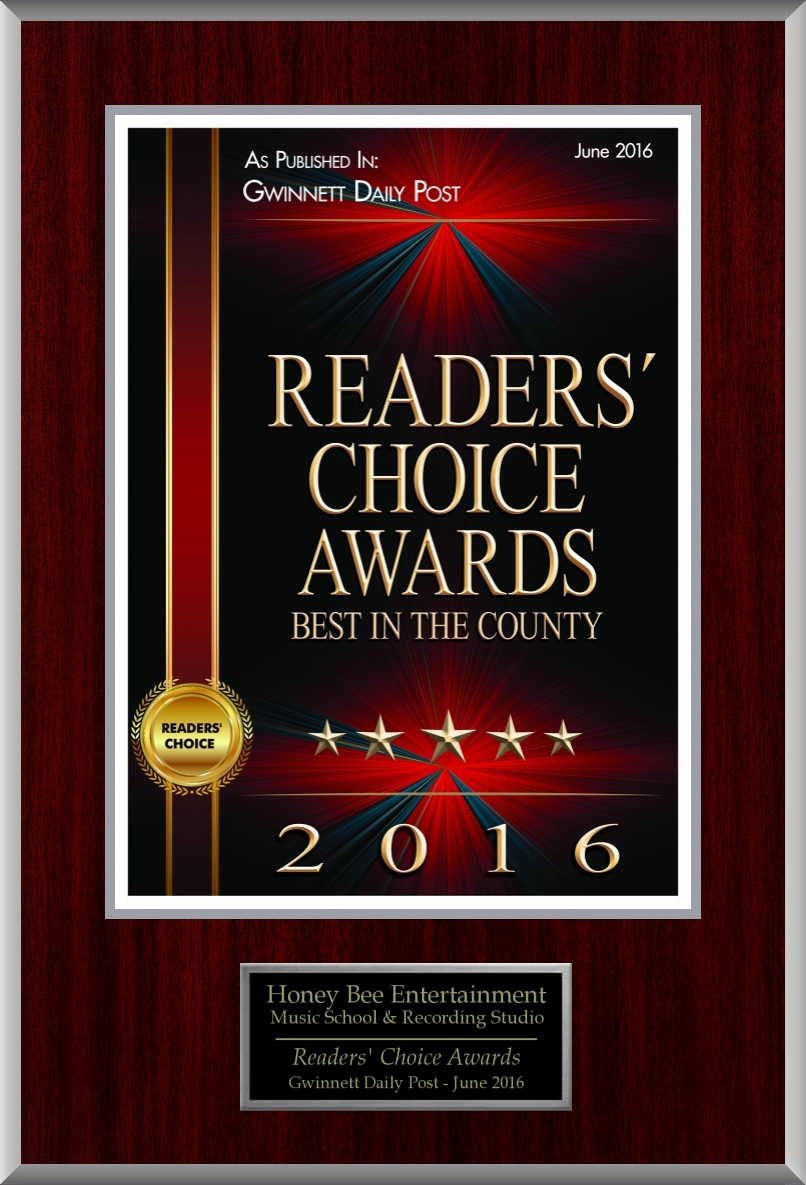 You will feel at home and welcome from the second you step foot in our "Bee Hive."  Walk right up to our front desk, and with just a little bit of information, we will be able to advise you and help you choose the right lessons and classes, the right teacher, and a schedule that works for YOU!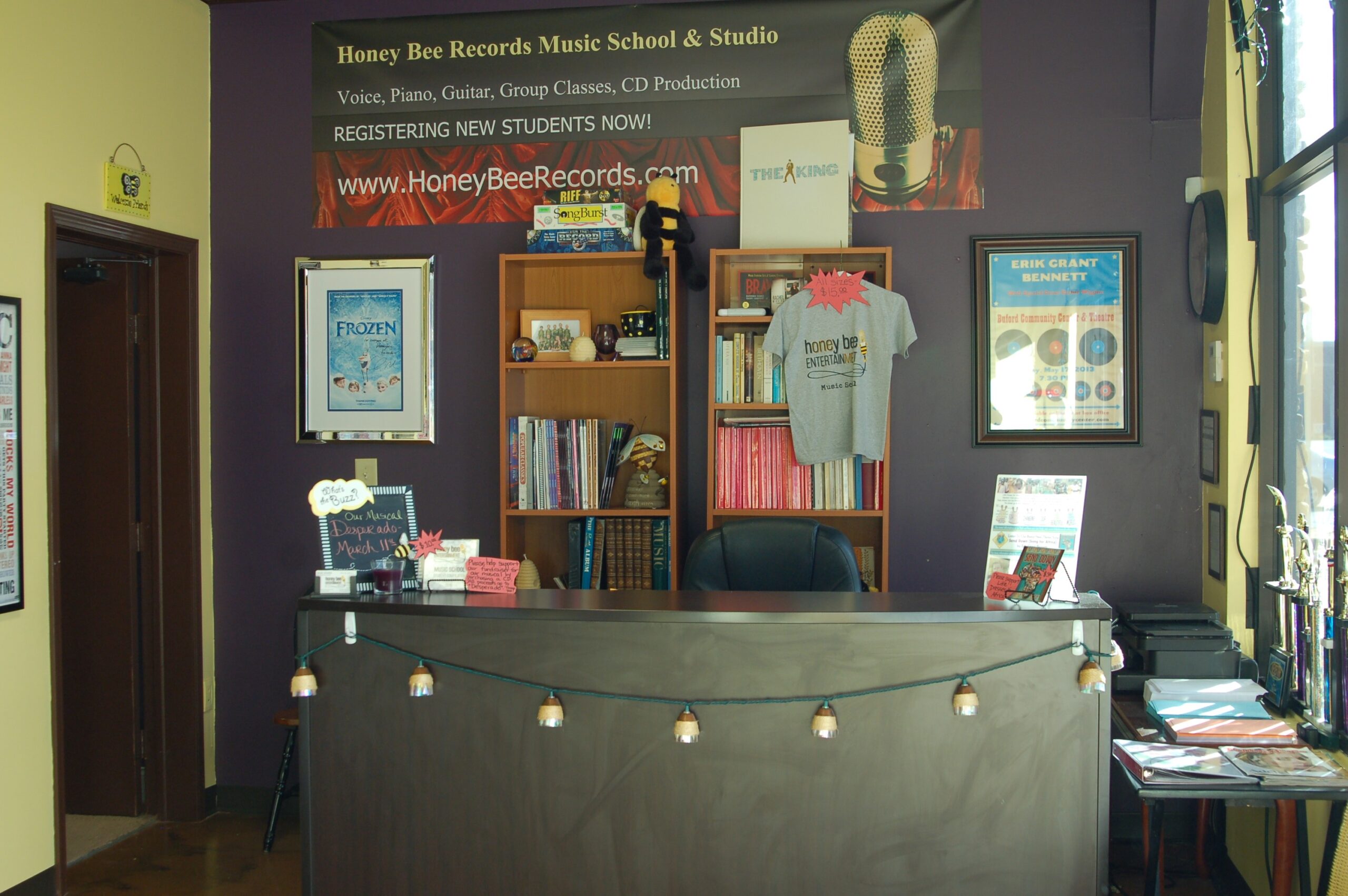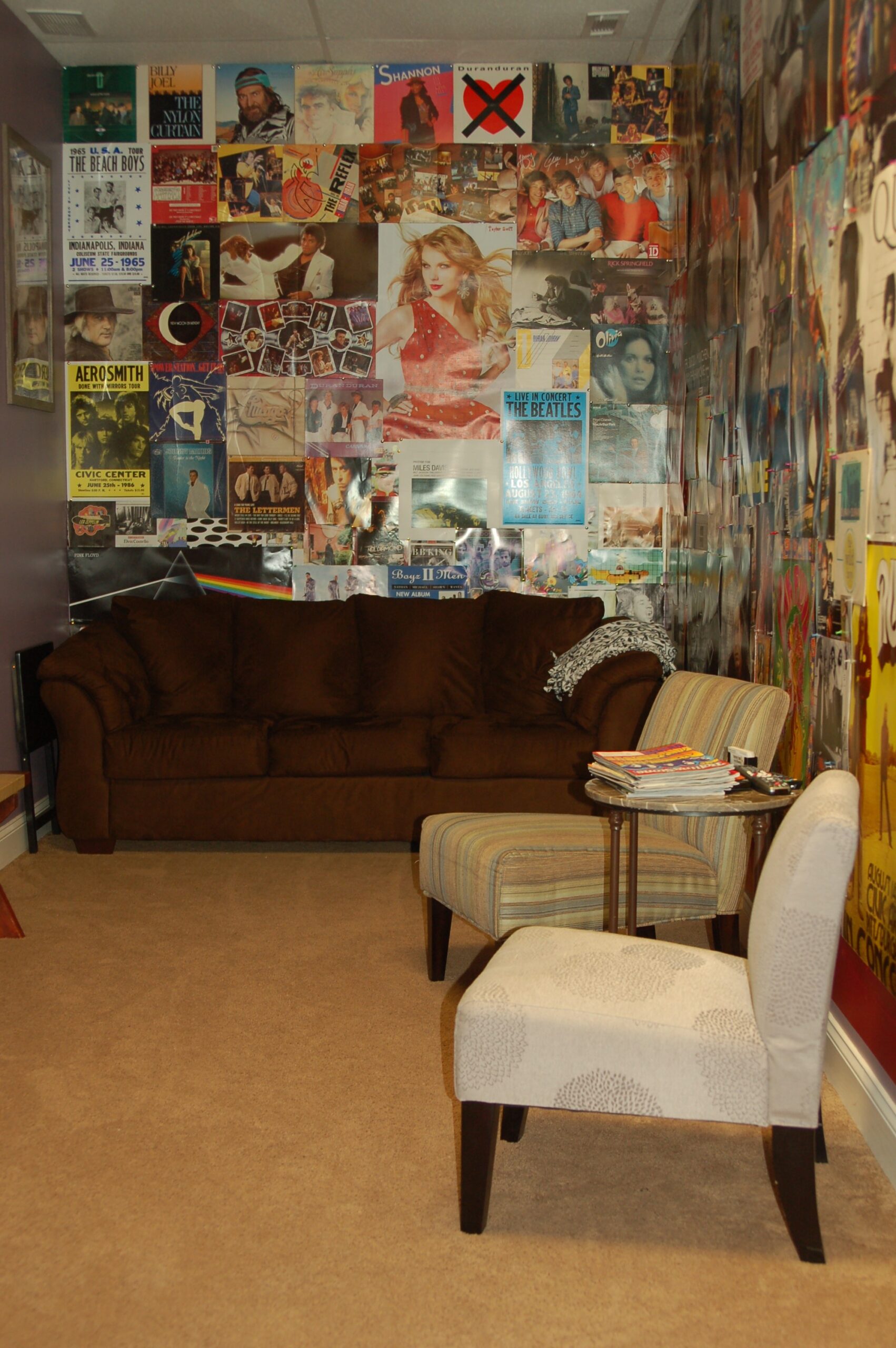 You will feel like you've stepped into a time machine with the wall-to-wall posters and album covers when you come chill in our cozy, comfortable waiting area.  Whether you are waiting for a lesson, coming to a parent/teacher conference or just have a break between classes, you will enjoy relaxing and checking out all of the awesome memorabilia!
In addition to getting an outstanding music education, you will also make lots of nice friends and be able to hang out with them in our large common area, which includes a small kitchen and our own refreshment stand!  We pride ourselves on having students who are kind, positive, and motivated to meet new people and welcome them into their Honey Bee family.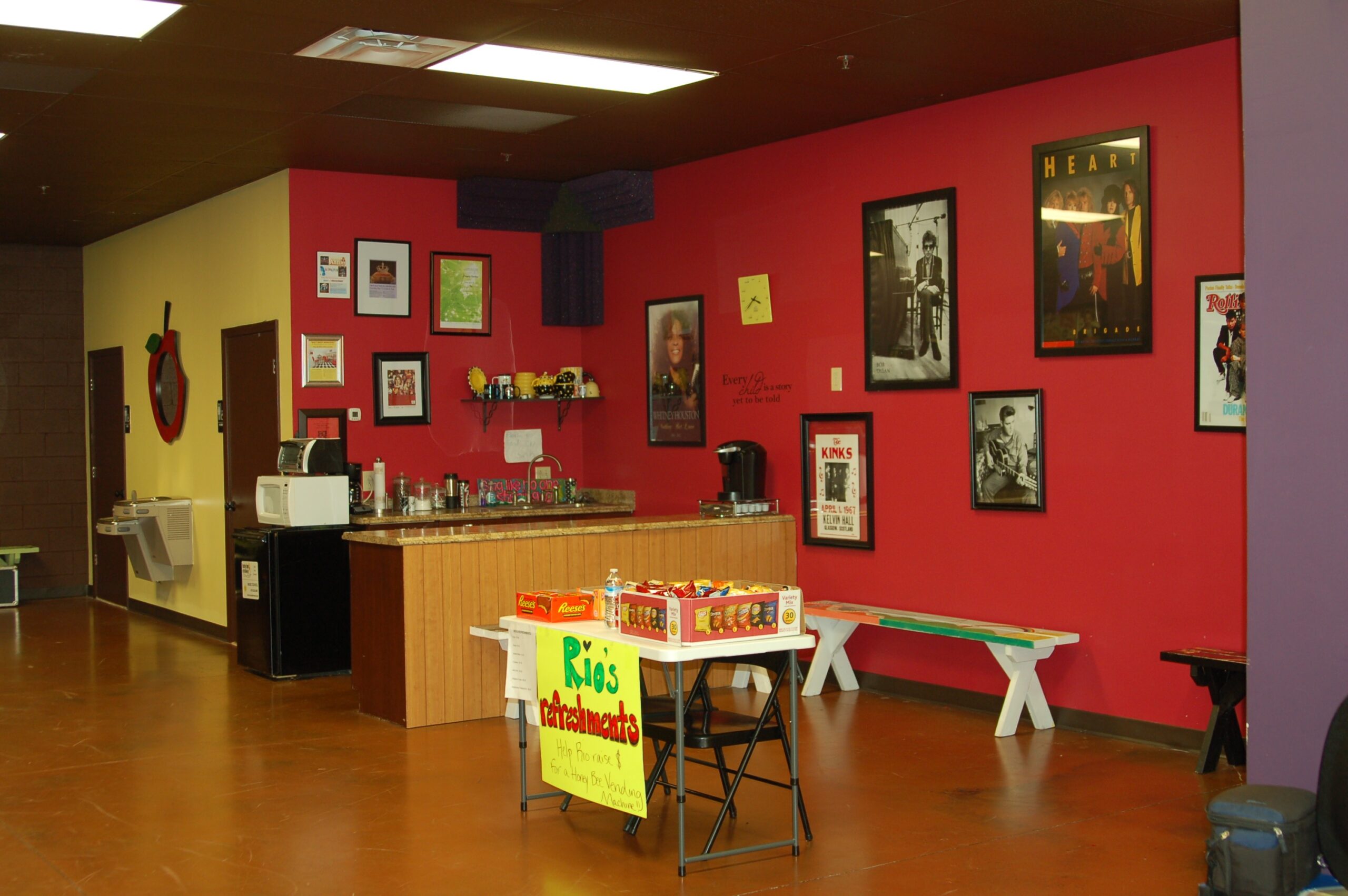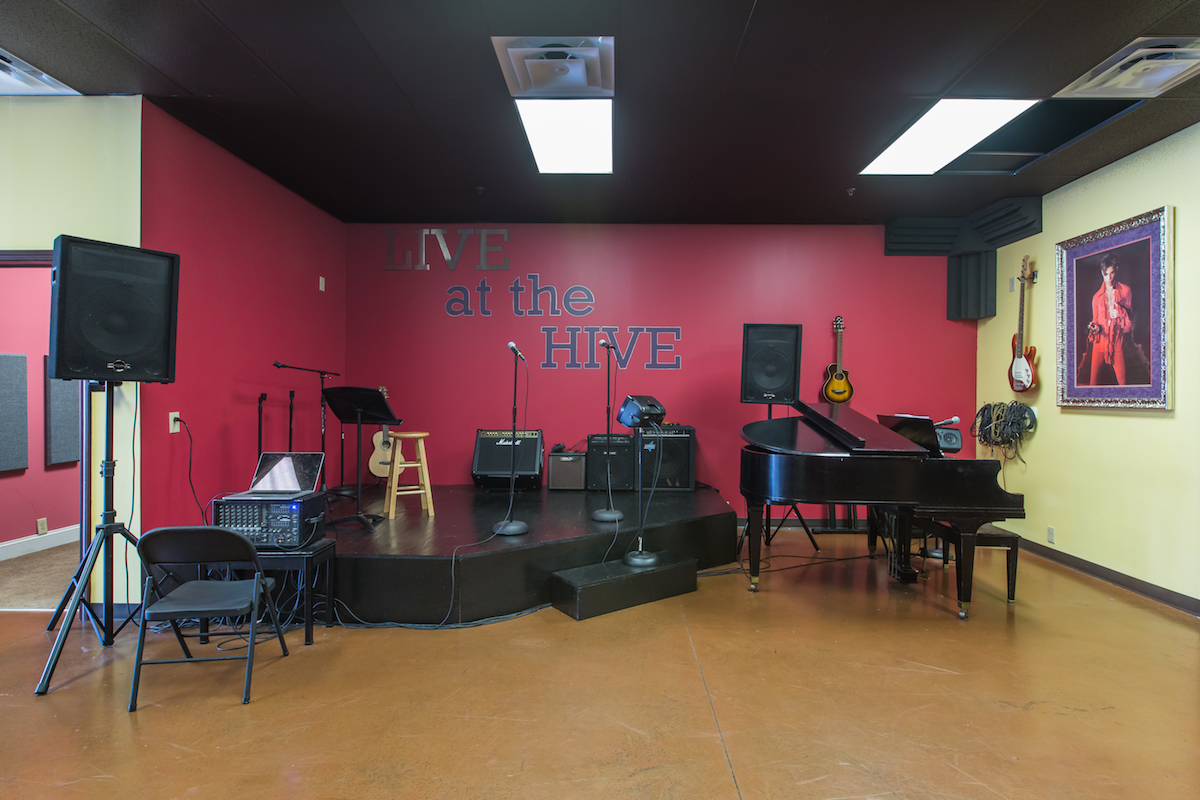 Twice a year, we rent out local concert venues for our more elaborate productions.  However every couple of months, we also host our own smaller performances, which we call "Live at the Hive," right on our own stage!  Families and friends gather in an intimate, "coffee house" type environment to watch our amazing kids of all ages perform.  Our stage setup features a grand piano, guitars, multiple configurations of musical accompaniment, and a nice, warm sound system to give both our audience and our performers the best possible experience!  Live at the Hive concerts are open to the public and will be listed on the events calendar.
Tour Honey Bee Music School
Our mission is to explore the world of music with young, passionate artists and to mentor them through instruction, performance, recording, constructive critique, and social events.  We are seeking talented, though not necessarily experienced, children between the ages of 5 and 18 with big hearts, big dreams, and the willingness to begin a memorable journey, a relationship with music that is based on connection to self and others.
A child of a classical pianist father and a mom who was one of six singing sisters, Erik heard music early and often.  His lyric writing abilities emerged in middle school, where he excelled greatly in English, Literature, and creative writing.  By high school, Erik was playing piano hours a day, singing anywhere there was a stage, and studying chord and theory books.  By senior year, he had been selected to All-State Chorus six consecutive years and the exclusive Governor's Honors program.  Erik was offered a scholarship to the prestigious Berklee College of Music in Boston, where he would earn a Cum Laude Bachelor of Arts degree in Film Scoring.
Whether writing and producing music for other recording artists, composing instrumental pieces, creating scores for film and television or musicals for stage, Erik is a prolific maker of music.  His writing credits include projects for companies like UPS, Coca-Cola, Nascar, Fox5, and the Olympics, to name a few.  He continues to write scores for documentaries and short films and has earned an Emmy nomination as well as several Telly Awards along the way.   He has sung the National Anthem for the Atlanta Braves, Atlanta Falcons, and Georgia Tech Yellow Jackets.  Erik released a song called "We Were There" for the 1996 Olympic Summer Games.  He had another successful single in 1999 with the tearful ballad, "Leanna's Song (I Guess This is Goodbye)," which he performed on morning shows like Good Day Atlanta and Peachtree Morning – the song was also featured on Star94, an Atlanta pop station. After spending the better part of a decade composing and producing other artists, Erik has returned to releasing a few of his own projects.  In fact, Erik had at least one of his singles from his CD "Bulletproof" playing on the radio every month for two consecutive years.  His latest release is "Send Down (Song for Africa)," which was inspired by the work of Little Dresses For Africa (a portion of proceeds benefit the charity).
Today Erik is focused on running the music school and recording label he and his wife own together while still continuing to work on a variety of writing and producing projects.  He is also directing and editing music videos these days!  But passing on his knowledge, training, and experience to new generations of aspiring artist is some of the most rewarding work of his career. 
A true master of vocal technique, Elise is not only an instructor, but a diagnostician.  Most struggle to grasp the "what," while she understands the "why."  She gets all of the intricacies and obstacles of the human voice and often says she "can teach anyone to sing."  Her father is a pianist of jazz and classical origin, and her mother once sang with the Gwinnett Choral Guild, so Elise was never a stranger to music.  During her grade school years, she studied voice, piano, and violin, sang with Young Singers of Callanwolde (the great Robert Shaw directed them at times), participated in LGPE and many festivals, including the National Federation of Music Clubs and a winning performance for Best Literary Trio at the GMEA conference.  She would eventually attend on scholarships the music school at Georgia State University, receiving a Cum Laude degree in Vocal Performance.
As a professional, Elise has performed in over 30 different operas, such as Carmen, Tosca, Aida, La Boheme, and The Marriage of Figaro as a member of The Atlanta Opera Chorus.  She has dedicated her life to mastering her craft through deep insight and strong discipline.  She is also a tremendous pianist, an avid note reader, and a skilled instructor across all styles and genres.  A rare departure from her usual classical world, Elise was a guest artist on the song "Unbearable Ache," a country/pop ballad written by her husband Erik for his album "Throwback."  She has also recorded background vocals on many of the Honey Bee label's releases.
As if raising four children and having her own business were not keeping her busy enough, Elise also plans to release her own album of original "neoclassical" songs on the Honey Bee label in the next year.  But her absolute and truest sense of joy and purpose comes from working with young people and helping them break down all types of barriers.  Her energy is infectious, and her work is more than a job…it's her calling.
Each student is seen as an individual.  No two singers or musicians should sound the same. The goal is never to change anyone, but rather to help them become the best version of themselves!
Like the great Johnny Cash sang, we "walk the line" at Honey Bee – the line between work and play, between technique and creativity, and between confidence and humility.  We have created an environment that is not ALL one thing and not ALL the other, but is instead a perfect balance of perspiration and inspiration.
A major difference is our faculty is entirely comprised of trained, degreed instructors.  All our teachers are fun and easy to work with, but they also know what they are doing!  Many schools have teachers who are really what we call "coaches."  At Honey Bee, the teachers are true technicians who know the right way to enforce strong, positive habits for their students.
Performance Opportunities
We don't just have "recitals" – we put on CONCERTS! Performance opportunities are frequent, and we use live, professional musicians to back up our singers and instrumentalists.  We rent out beautiful theaters and have large crowds for our main shows, but we also do some more intimate "coffee house" type performances on our very own stage.  Our concerts have a variety of themes and cover many genres and styles so that every student gains a healthy understanding of different types of music, learns solid microphone technique, how to engage an audience, and countless other abilities that can only be attained through repetitive experience.
But what really sets us apart? Come see for yourself!  We believe when you walk into our facility, you will feel the difference, see the difference, and ultimately HEAR the difference!